House and Garden
Create an oasis of beauty and harmony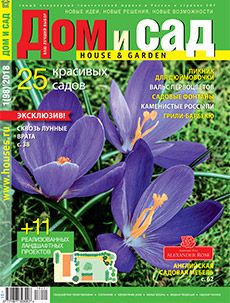 The House and Garden magazine is a successful Russian project designed for amateur gardeners and owners of country houses, cottages and villas, for all those who seek to live in harmony with nature. Very few people get full satisfaction from their own garden, because there are always little things that could be better. As a rule, people prefer large spaces, and only some like small gardens, which are easier to maintain. However, most of us have to be content with the plot of ground that we have.
To care for it, to improve and shape it according to your taste is a real exciting experience. Everyone chooses his own type of garden. What is great for one person, does not suit to another. That's why you need to strive to ensure that the design of the garden reflects your perception of it. The purpose of the House and Garden magazine is precisely to help in creating a garden that embodies your personality in the best way. But at the same time it pursues another goal: to give free rein to the imagination and fantasy.
The House and Garden magazine contains numerous tips, ideas, practical models and examples for garden design allowing you to decorate the most inaccessible corners. The magazine provides guidance on choosing the plants that are most suitable for certain areas of the garden and different climatic conditions. The magazine describes numerous types of gardens: unpretentious gardens that do not require time-consuming care, patio gardens, gardens in Japanese style, landscape and miniature gardens, as well as gardens decorated with water and stones.
Much attention in the magazine is paid to indoor plants, which are used for decoration of residential and office premises, winter gardens, terraces and balconies. Beautiful color photographs illustrate ideas how to place furniture and household utensils, as well as successful examples use of the most unusual items in garden interior decoration. Distinctive features of the magazine are the accuracy of information and search for all new.
The readership of the edition is landscape architects, architectural firms, designers, construction companies and private persons.
Four times a year the magazine is published with a 20-page supplement «Ideas for Garden».
The official website of the House and Garden magazine gives the possibility to read online and view images of selected materials published in the printed version of the magazine. We also offer our readers a full digital versions of magazines (since 2009) for reading online. For example, you can flip through the magazine «House and Garden».
The House and Garden magazine has traditionally been the general information sponsor of annual International exhibition HOUSE and GARDEN. Moscow Garden Show, held every spring in Moscow, Crocus Expo Fairground. The organizer of the exhibition is the company World Expo Group. Registered by the RF Ministry for Press, Broadcasting and Mass Communications. Registration certificate ПИ № 77-9176 dated May 31, 2001.
The magazine has been published since 2001.
Frequency: 4 times a year
Circulation: 30 000 copies
Format: 220 x 290 mm
Printing: full color
Printing house: OOO «Pervy Polygraphichesky Kombinat»
Distribution: Russia, CIS and far abroad
Tel: +7 495 730 55 92
E-mail: mnv@houses.ru
Nadia Morozova